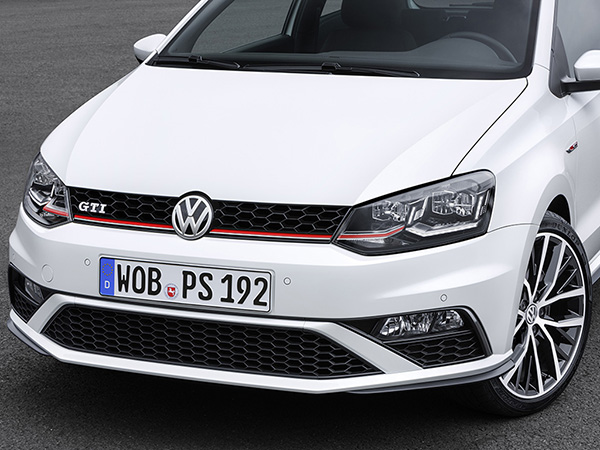 It's all over internet, but in case you hadn't seen the latest addition to the hot tot market, Volkswagen released the first official pictures of the new Polo GTI late last night. There's still no official press release, so some information may be speculative, but it is widely reported that power is up and the manual gearbox makes a comeback.
The pre-refresh Polo 6R GTI had 178bhp from its 1.4-litre TSI engine. The new car ups that by 11bhp (for a total of 192PS as referenced by the press shot car's numberplate) and is powered by a new 1.8-litre unit, which also sees service in the Audi A3. The new engine develops 236lb ft (320Nm) of torque – an increase of around 30 per cent compared to the now discontinued 1.4 turbocharged lump.
Performance is said to be improved, as you would expect, with the 0-62mph dash coming up in 6.7 seconds. Top speed is 148mph. A six-speed manual gearbox will be fitted as standard (seen in these shots), while a seven-speed DSG is likely to be an option. The 2010 Polo GTI only had the DSG option, so this bringing the manual back is an encouraging move by Volkswagen.
Externally, the new Polo GTI looks sharper than its pre-refresh predecessor. Taking the latest model's updated headlamps and tail lights, there is also a new mesh-filled front bumper, extended rear spoiler and a new design of alloy wheel. The rims take inspiration from those of the Mk 7 Golf GTI, as does the red grille strip, which runs into the headlamps, just as on the bigger car.
Inside, the new Volkswagen GTI family member also has echoes of the Golf GTI, while all the latest upgrades from the new Polo range are present and correct. The sporty Polo adds aluminium pedals, gloss back trim inserts, and, we should imagine, a higher level of standard equipment.
No details about pricing or market availability have been released, but the car is set to debut at the Paris motor show next month. As soon as that information becomes available, we'll bring you the first official details of the hottest Polo to date.